SEO link building is the process of creating or acquiring relevant and high-quality backlinks to your website to gain organic traffic to it. It is not spamming or purchasing links. It's about having high-quality, appropriate, and unique content to share.
For some people, the term "link building" conjures up images of shady SEO tactics that lead to penalties. If that's the case, you need to rethink your approach.
Search engines use links to determine the quality of your site. You need to build as many relevant links as possible to get your site ranked higher. That's why I'm going to show you how to make a high-quality link profile using SEO link building.
SEO link building is a great way to generate leads for your business. Creating links to your website can increase your search engine rankings and get more visitors. The problem is that few people know about it, and few know how to use it properly.
What is SEO link building?
Link building is a method of building links to your site from other sites. The process can take various forms, including guest posting, outreach, and paid strategies.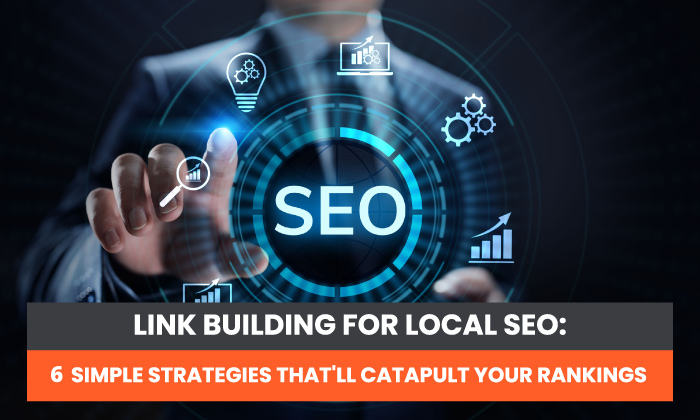 Businesses looking to increase their search presence or SEO efforts often do it. When performed correctly, link building can be a very effective SEO strategy that helps improve your traffic and rankings.
Link Building Strategies for Better SEO Link Building Strategy. This post will review the link-building strategies and how they can help you improve your SEO. Guest Posting One of the most common link-building strategies is to write articles on other websites. This is called guest posting.
When it comes to SEO, link building is the most important factor. Every website needs links to rank well; the more high-quality links you have, the better.
SEO Link Building: How to use it
SEO link building is one of the most effective strategies for improving your search rankings. It helps you build links to your website from other websites that are authoritative and relevant.
Link building is an important part of SEO because the links you receive from the websites you build help establish your authority.
Many people think link building is about creating links from low-quality websites, but this isn't true. You can achieve many benefits if you build links to websites with a strong audience relevant to your website.
For example, if you build links to a popular blog, you'll get an influx of traffic and can use this traffic to improve your search engine rankings.
How to use tools for link building
Link building is not just about creating lots of links. There are many tools out there that can help you find the best backlinks for your website. One of the most popular tools is Ahrefs, which allows you to see all the links to a specific domain.
This tool will show you any backlinks, no matter if they are from external or internal sources. It's a good idea to use a few different ways to get backlinks. For example, you could link to a page on your site that talks about the product you sell, or you could submit your blog to relevant blogs and ask them to mention you in their posts. If you're not spamming, this can be a great way to get some free links and traffic.
You can then find the best backlinks for your site by looking for sites linking to it. The best way to find these sites is to use Ahrefs's Domain Explorer, which lets you search for the best domains that relate to any specific URL.
Why do you need link building?
Link building is a critical part of any SEO campaign. You should still know how link building works, even if you're a small site owner.
Links from high-authority sites can greatly increase the exposure of your content and, therefore, your rankings. They're also incredibly powerful because Google trusts them.
As you may know, most of the links you build are going to be natural links. Other websites and bloggers create these links. However, you can still leverage these links and improve your site's link profile. But the process of link building can be frustrating.
Frequently Asked Questions (FAQs)
What is SEO link building, and how can you use it?
A: SEO link building means getting links on your website that will help you rank higher in search engines. You want links from reputable websites to have a good page rank. You can find out what page class a website has used the Google Page Rank tool. You want to go to Google and type in the website address of the site you want to check out. This should take you to a place with information about the website's Page Rank. When you find the area with the highest page rank, you will know that website's quality.
Q: What are some ways to get good SEO link building?
A: One way to get links is to write content on a website. Then, when you publish that article, ask another website to link to it. In return, you can link back to their website.
Top Myth about SEO Link Building
1. That's a myth that SEO Link building is all about creating links.
2. That link building can be done by purchasing links or buying services from companies that sell links.
Conclusion
One of the most important things to understand about search engine optimization is that building links is very different from traditional web development.
The first step is creating content that people are searching for. It may seem obvious, but people don't often look for what they already know.
Once you've created useful and relevant content for your audience, you need to get the word out. This means sharing your content on social media sites, using bookmarking sites, and posting content on blogs and forums.
It's important to note that while these links can help boost traffic, they don't always carry the same SEO value.
Link building is a complicated process that requires time, patience, and a bit of luck. There's a lot of misinformation about how to use link building, so I'll break it down for you.